Affiliate programs are a well-known method to monetize a website and earn online income. It offers long-term potential if you are willing to take the time to build a brand and grow a successful affiliate strategy.
But what is an affiliate program? And how to find affiliate programs and choose the right one?
What is an Affiliate Program?
With an affiliate link, you can promote a product or service from a company(Merchant). If you can buy it online, the chances you can promote it through an affiliate program or affiliate network are pretty high.
Every time someone clicks your affiliate link and buys a product, it will be tracked. This way the company pays you a commission if someone purchases in a certain time period through your link. The link doesn´t affect the customer; there are no extra costs or he isn´t missing anything. But sometimes an affiliate program gives a bonus or coupon to make the offer more appealing which benefits both you and the merchant.
The affiliate commission is a percentage of the purchase price; it can be anything from 1-70% or even more. The goal is to drive traffic to your affiliate link; the more people see your link, the higher are the chances someone purchase through your link. To get traffic you either need a Website where you write content and reviews or make a product comparison. The website method works best if you want to build a brand and make a long-term profit through affiliate marketing.
You can also promote affiliate links through social media on forums or do online advertising. No matter what you choose, you need a good strategy and a way to get traffic to your promotion.
How to find Affiliate Programs for your niche?
When you have chosen a niche and may already build a website with content and know where you want to integrate your affiliate link. Then you start searching for an affiliate program that is relevant to your niche. So, where can you find a quality affiliate program?
1. Search on Google or Bing
An easy method to discover affiliate promotion in your niche. You just need to search for 'affiliate marketing program'' + ''your niche'', or for ''affiliate program'' + ''the specific product you want to promote. It most likely will show you many programs that are fit for your topic.
If you want an affiliate link from a specific company, you can add the companies name + "affiliate program". Sometimes you get a result right away but if not, you can also try searching for a "partner program'', "referral program" or ''associates program''. And if you didn´t find anything, look at the bottom of the company's website you may discover it there.
When you have already established a brand you can also contact the company directly if you can promote their product or service.
2. From a competition
You may already have promoted a particular product; it is a good idea to find a similar competing product. This way you can make a comparison when they have similar functionalities. A comparison article can bring your audience a lot of value and help to decide between multiple products.
Research a website that has similar content or is in the same niche as you. On a competition website, you can often find products that you can also promote so it is a good idea to make a list. If you click on a link from a competitor, lookout for an affiliate tracking id often at the end of a link, something like "?id=34563". When you find this is most likely an affiliate link.
3.Using the Affiliate Program search
Sometimes it can be hard to find a good affiliate promotion. This is why the affiliate program search on the platform wealthy affiliate is very useful. You can use different filters and select from various categories and searching for keywords and niches.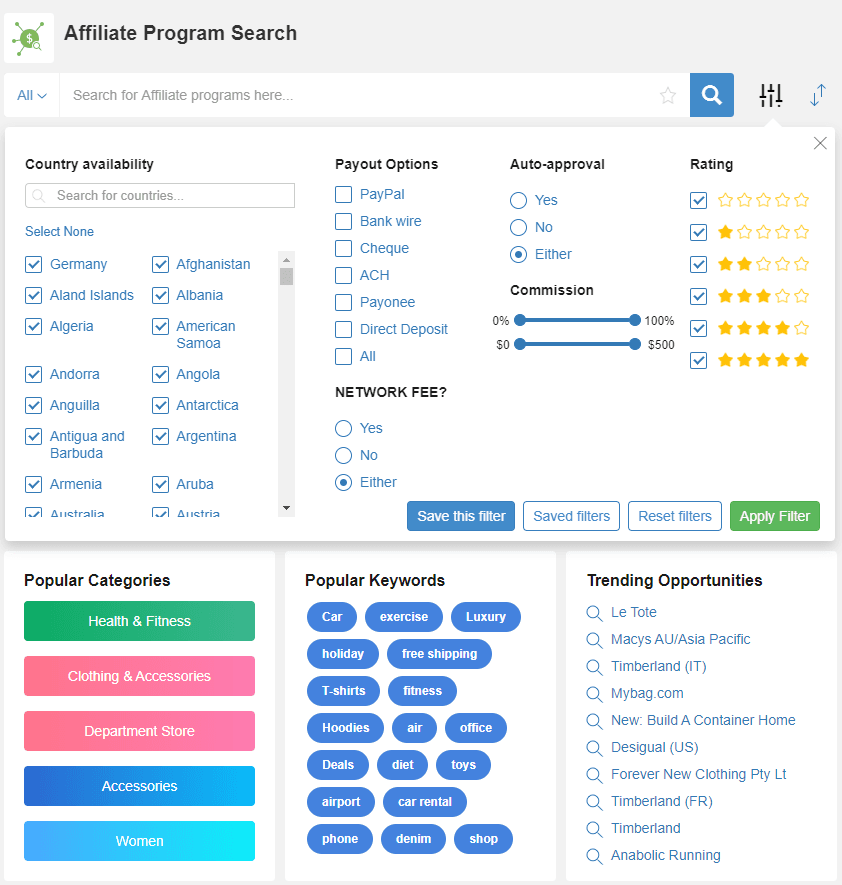 Over 10000 affiliate opportunities, you can find at the affiliate program search. It gives you enough products and services you can promote and earn money with.
Tips for choosing the right affiliate program
Selecting a quality affiliate program seems challenging but with the following tips, you get to know what you should look for.
Trying the product
It can be a good idea to try out the product for yourself in advance. This will help you become familiar with the offer, and you know if it will fit your website. You can also write better reviews if you know the quality and features of the product.
Fits within your niche
A product you choose should be related to your niche if you have a blog. Your visitor most likely won´t buy it when it doesn´t fit the niche you write about. So try to search for something similar or related; for example, if your blog is about fitness and training, you can also integrate healthy cookbooks as a promotion.
Liked by your target audience
If you know what your audience likes, it can be very useful to successfully market products. You have to understand who your target audience is, what age interests gender, and where they from. If you have a blog, you may find your targeted audience in your analytics. This can also be seen if you already promote affiliate offers in your niche because a program maybe has tracked analytics integrated.
Even when you don´t know your target audience, you should study your competitors to see what is popular. It can help to find the right audience as these people more likely to buy from your link.
Commissions and high price products
When you found an affiliate product, you need to check how high the commission is. As you don´t want to promote a product that isn´t paying much. If you have to decide between a high-priced product and a low product, it is a good idea to research both.
A high tier may get lesser sales than a low tier product. For example, if you sell 25 times product A with a 1% commission and 1-time product b with a 10%. Most likely product A will earn you more money.
You need to choose an offer that can solve the problem your audience is experiencing, which can also be the one with a higher commission. But it is a good idea to have a wide range of products and different prices. As some may buy the more expensive one because they think it has more features and may is better quality.
Upsells offers
Sometimes a company sells additional packages and features after a customer purchases a product. If the buyer takes advantage of these offers, it can increase your commission.
Quality
A product you promote should have good reviews and not a high return rate. As you want to find something that your customers would like will help you get long-term affiliate commissions even for other products you promote.
Merchant Support and Reputation
It can make a big difference in choosing a company that offers good support; it will not only help your audience, but it can also be a sign of a quality product.
So choose a merchant that has good reputations and long-established which means that you can find good reviews for the company on the affiliate platform or a site like Trustpilot.
You can also check conversions metrics that show how many clicks a product needs that someone buys it. For a newer company, it maybe is a good idea to wait some time to know if the offer would be a good promotion.
Conclusion
When you invest your time and do your research, you can find a lot of products and services that you can earn a commission. The better you target and the more traffic you gain the higher your profit will be. If you need help to promote affiliate products and want to learn how to build a website, you can check out the online marketing tools that offer great courses and tools to earn money with affiliate programs.