When you want to create a successful website, you need to know how to get user engagement. The goal is that your site visitors read your content, interact with it, and click on your call to action. It is a critical factor to get more leads and revenue.
But what is user engagement and how to improve user engagement?
What is user engagement?
With user engagement, you can make sure your visitors appreciate your content, so they stick around, read and convert. When your user engagement is high, your audience will also become more loyal. It means more return visits and higher conversion if your website simply works.
You can measure how users interact with your site, the actions they take on your site, and if they end up converting into paying customers.
Every website owner who wants to earn money online should be aware of their user engagement metrics and actively improve them over time.
The goal of user engagement is that users spend more time on your website and view more pages instead of leaving. You also want the visitors to share your content with their friends and the end goal is that they take the desired action before leaving.
Types of engagement
There are different types of engagement when it comes to website visits.
Content engagement
When visitors land on your website, read your homepage and click on other pages of your site, then that is user engagement. The person learned about your business and offers. The more info the person finds, the higher the chances they take some type of action. It is why increasing user engagement is vital for your success.
Comment & Discussions engagement
Active participation is a form of user engagement that describes an action of your audience. This can be commenting on a blog post, completing quizzes, answering polls and taking surveys, and many other forms of interactive content engagement.
These are not only elements for engagement, but they are fun and give the visitor a reason to spread the word and return again.
Social shares
When visitors like your blog, they may share on social media sites your post with their friends. If you integrate social media buttons, it gives users the opportunity to spread your website content across the web.
Visual content
It helps a lot if you use quality images and even have videos graphics on your website. It makes your site more visually appealing, and users will more likely stay on your site.
How to improve user engagement?
You can find a lot of different strategies to improve your user engagement. While you might already use some of these, it is always important to check what you can do better
1. Make your content user friendly and engaging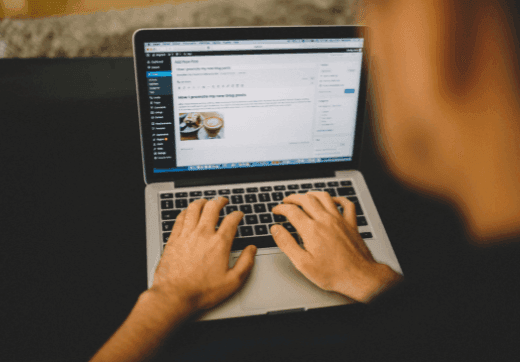 Your content is key to keeping your user on your site. You need to ensure you write valuable, engaging, relevant blog posts. Have a logical structure and enough white space so the visitors don't feel too overwhelmed.
Display and link related content in your articles. Also, make categories for your post so people can easier find similar content.
Use a font and text sizes (12-16pt) that are easy to read, even for mobile users. Break up your content into 3-4 line paragraphs and integrate subheadings, bullet points, and numbered lists.
Integrate many high-quality images and fitting graphics, audios, and videos.
The colors of your website need to be eye-catching, especially for important text and images. Still, don't overuse colors and try to choose a color scheme that you use on every part of your website. For example, the menu is blue, headers orange, and links green. Most websites use a white background and black text as it is the most convenient for the eyes.
2. Optimize your website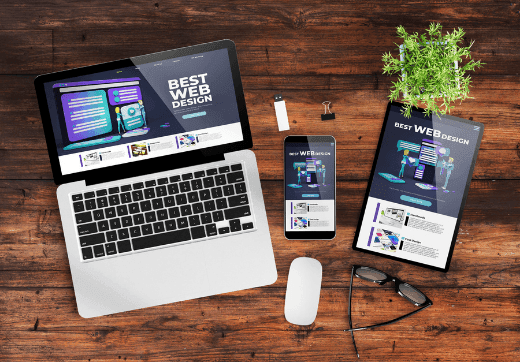 For search engines, you need to optimize your website to rank better in Google, Bing & Co. It helps you reach new users organically. To improve your SEO, you need to ensure your website speed is fast and it is mobile-friendly.
If you want to check your web speed, visit Google Site Speed or GTMetrix, where you can find recommendations to make your website faster.
Often a caching plugin and image compressing tools can make a huge difference in your website performance. Try to fix links that are not working and make a custom 404 page with content recommendations.
For mobile-friendliness, you can use Google's Mobile-Friendly Test it shows how people see your website on their phones. Of course, it is a good idea to use your own phone and test the navigation and readability of your site.
The overall site navigation and how users find your content play also an important part in the engagement. You can show the site to your parents or someone who doesn't use computers regularly if it is easy to navigate on your homepage.
Integrate a search option where users can discover content on your site. This helps so visitors stay on your website and you can find new content ideas.
Also, use a clean website design with a visually appealing theme.
3. Have a clear call to action (CTA)
When you want to earn money with your website you need a good call to action. No matter what, your goal is getting users to buy your product or use your affiliate links. You should create a CTA with a button or banner you include at the end of your content, on the sidebar, or wherever it fits on your website.
Try to make it easy to understand by using phrases like Download, Buy Now, Click here… So your audience knows what they can expect when they click on your offer.
Ensure to keep your call to action simple with a good reason(Saving money, Testing a product, Downloading Guide, etc. that people take action and click through. Be creative and use graphics and images to make it visually appalling, so users see them and know what to do.
Have a goal in mind if you want to make sales funnel, or just sell a product, or email signup anything where a user can take some type of action
4. Enable comments and integrate social media buttons
Website Comments are a great way for users to interact with your content. They can ask you questions, give you feedback, or just share their opinion. So make sure it is possible to comment under your articles. And for your product pages, it is also helpful to enable review comments.
Try to integrate social media buttons so users can easily share your content and pages on major social media platforms. This will help you get new visitors and more conversions because people trust their friends' opinions more. So when a friend shares a product on social media, their close friends are more likely to buy it.
Also, link any social media profiles your business has so people can follow them. It is also very important to build a social media presence for your business to grow an audience outside of your website.
5. Use Email Marketing and chatbots

Email marketing is still the best way to convert users into buyers. You can collect email addresses through opt-in forms by providing a free guide or a coupon code. It helps you to get more users to sign up for your email list.
This way, you can send follow-up emails with news, product offers, and other informal things that build trust and get you, new customers. You can use the Email marketing tool Sendfox to automate and schedule email newsletters.
Integrate chatbots on your website. It is similar to a contact us form but more convenient. It makes it easier for users to ask questions and share their feedback, and you can easily answer without the hassle of back and forth emails. This can also be used as customer support to faster reply and solve the problems of your customers.
It is possible to have a real person answer the question or to integrate an automated chatbot that answers top questions.
You can also create a stand-alone FAQ page where you answer the most popular questions about your business and services.
6. Create surveys & polls
With surveys and polls, you can get many useful data. This will help you improve your website and get feedback about your product. Also, you can create surveys to find your targeted audience, which is very helpful for online advertising and to know what people are interested in your products.
7. Analyze your data
To really know what is working and makes users stay on your website, you need to analyze your data. Use Google Analytics to track your visits and conversions. The following metrics you should track to improve your user engagement
Page Views: This is one of the first metrics you see when you look into Google Analytics. You can also see under Behavior > Overview how many pages a visitor has engaged with since landing on your website.
Engagement: Google Analytics has under the Behavior menu a feature called Engagement. You choose a time, and then you will get metrics like page views, page depth, session duration, and the number of sessions.
Bounce Rate: When you have a high bounce rate, people leave your site very fast. It means your site is either too slow, not visually appealing, or user friendly. However, in some cases, the high bounce rate can also mean the user finds their answer right away. For example, if they just search for your address or phone number, they leave quickly but still might convert.
Average Time on Site: Of course, the longer visitors are spending time on your site, the more they are engaging with your content. This is an amazing indicator of how user-friendly your websites. It means if you have a high average time on site, the user engagement is likely also high.
Return Visits: The more a user returns to your site, the higher are the chances you get a customer. So if you have many return visitors, your website does something correctly.
Conversions: The more user-friendly and enjoyable your site is, the higher the chances a visitor will take action and buy from you. So more conversions mean your website is becoming more visitor-centric and enjoyable to engage with.
You can also watch users navigate in real through Google Analytics. Or, when you integrate a heatmap, you see where users hover over their cursor, click on the button, fill out forms, and more. It gives info on which areas of your site visitors might find confusing.
Conclusion
Boosting the user engagement of your site is a long process. But if you find and improve the failures, you did it will help your site in the long run. You will get more visitors and also more converting customers.
While you don't need to make major changes overnight, you should slowly improve and integrate the tips. Of course, user engagement is important to get traffic and customers, but you also need to have the right marketing strategies.